Immersion wort chillers are a simple but effective way of cooling your wort down to pitching temperature as quickly as possible.
The chiller is a spiral metal tube through which cold water circulates. The coils are submerged in the hot wort which heats up the hot water as it flows through the tubes.
Immersion wort chillers are typically made of stainless steel or copper pipes. The advantage of stainless steel is that the tube is more hard-wearing and doesn't tarnish. The advantage of copper is that it conducts heat slightly better and is easier to bend, making it a good choice if you will be making your own chiller.
Whichever type of chiller you choose, it is essential that you clean it thoroughly before you use it.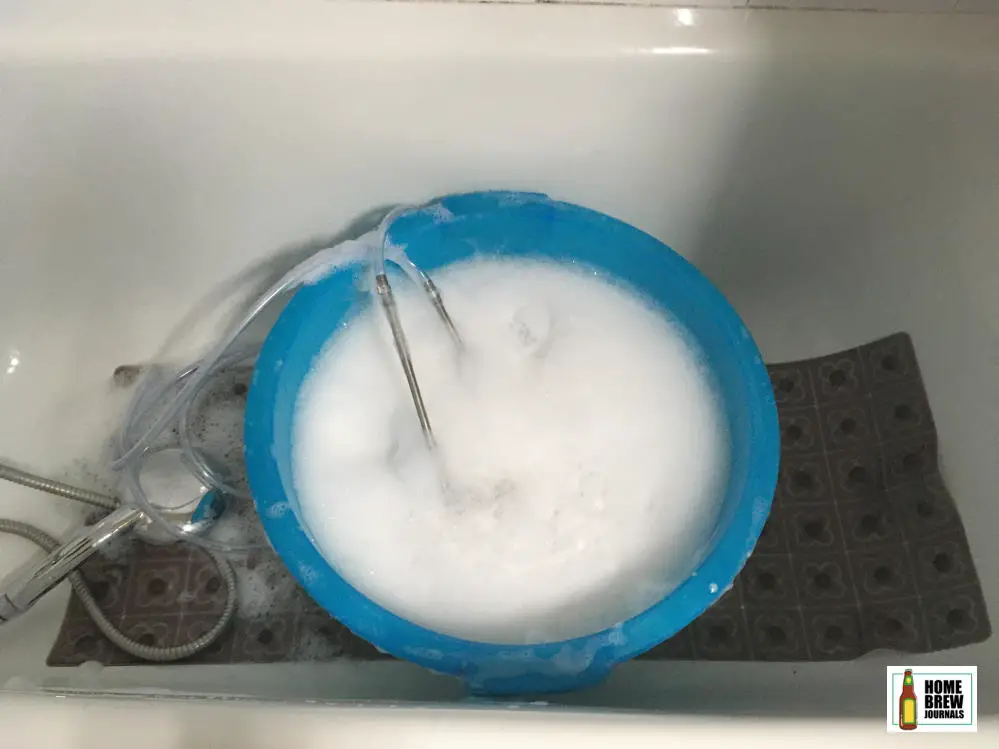 The tubes are made by a process called extrusion, basically, a large metal bar is squeezed through successive rollers until it becomes a narrow, thin-walled tube.
The tube is then twisted into a spiral. During this process, the metal is lubricated with mineral oils which also help to stop it tarnishing. In the case of the stainless steel tube which is used to make wort chillers, the gauge and other information is usually printed along the length of the tube.
It is essential that you remove both the mineral oil, ink and general grime from the wort chiller before submerging it in hot wort
I recently purchased a stainless steel wort chiller like this one. This is how I cleaned it before I used it for the first time.
5 Steps To Prepare An Immersion Wort Chiller For Its First Use
Soak in warm soapy water for 30 minutes
Scrub to remove mineral oils and print
Wash with soapy water
Rinse thoroughly in clear water
Sanitize as usual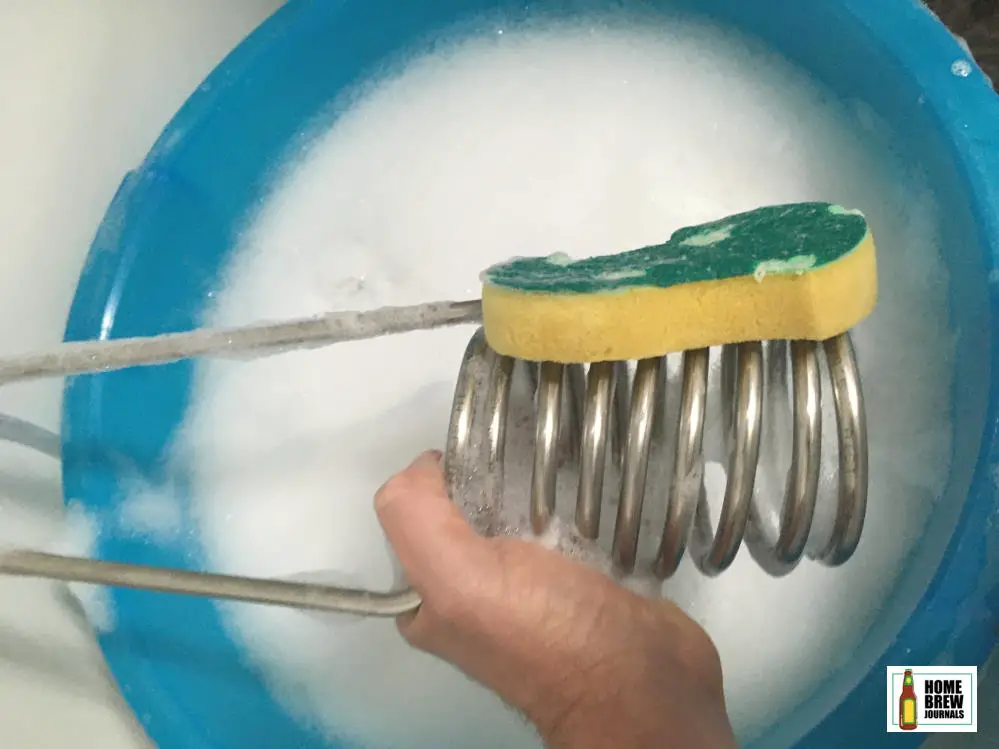 1. Soak in warm soapy water for 30 minutes
Submerge the chiller in warm soapy water for half an hour. I used washing up liquid since it contains detergents which help lift the mineral oils from the metal surface.
2. Scrub to remove mineral oils and print
Once the coil has been soaking for about half an hour use a kitchen sponge to thoroughly scrub the tubes to remove the oil and any ink which has been printed on the tubes. Carfully push the sponge between the tubes and ensure that you clean all surfaces which will come into contact with the wort.
3. Wash with soapy water
Wash the chiller thoroughly in sopay wáter again to remove any traces of oil and dirt which have been left on the Surface of the tube after scrubbing.
4. Rinse thoroughly in clear water
Rinse the chiller thoroughly with warm water to remove all traces of oil and detergent.
5. Sanitize as usual
Before you submerge the immersion chiller in the wort you should use sanitize it using whichever method you prefer.
I leave my chiller to soak in no-rinse sanitizer for ten minutes before each use. Other people prefer to use heat to sanitize their chiller and place it in their kettle fifteen minutes before the end of the boil.