Until recently, I've always followed tried and tested recipes from homebrewing books and websites. Earlier this year I decided to start experimenting and try to develop my own IPA recipe.
As most homebrewers know, a beer's taste, appearance and mouth feel depend on a combination of factors including the grain bill (mix of malts used), variety of hops and when they are added, as well as the mash temperature.
For my early attempts, I decided to stick to a proven selection of malts and then experiment with different types of hops. This led me to think about what is the best mash temperature for making IPA.
I compared more than eighty different recipes and found that the most popular mash temperature for IPA is between 65 and 67ºC (149 – 153 Fahrenheit). Most English IPA recipes recommend a mash temperature of 65ºC (149 Fahrenheit) whereas the majority of American IPA recipes favour 67ºC (153 Fahrenheit).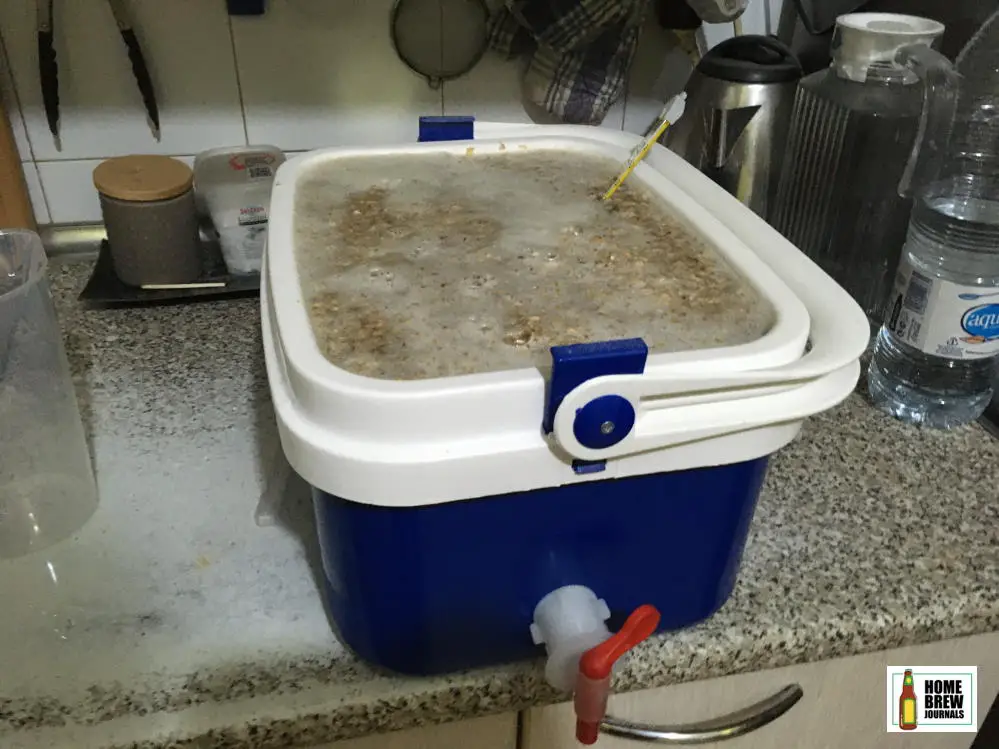 The origins of IPA
IPA (India Pale Ale) is probably the most popular style of craft beer. The style was developed during the nineteenth century as a way to preserve beer that was shipped to British troops overseas (mostly to India).
The most popular beers in the UK at the time were pale ales and porters. Unfortunately, these beers weren't suited to being stored at higher temperatures and by the time they arrived in India, they had gone off.
British brewers found that if they added more hops to pale ale, it would survive the journey intact. To offset the excessive bitterness caused by the extra hops, they also added more malt. This not only helped balance out the hops but also increased the alcohol content, also helping preserve the beer.
The new India Pale Ale style of beer was so popular among the troops that soldiers continued ordering it when they returned home.
During the American craft beer revolution of the 1980s, US brewers began reinterpreting traditional IPAs and developed a whole range of styles. Different strains of hops and brewing techniques such as dry hopping have brought a whole new mix of flavours and appearances to IPA.
Extra hops are no longer synonymous with bitter as brewers have developed recipes which bring out citrus, fruity and pine flavours. Today, more than just a style, IPA is a diverse subset of beers.
Effect of mash temperature on IPA
Last month I wrote a post discussing the effect that mash temperature has on the taste and alcohol content of beer.
In that article, we saw that the optimum temperature for single-step infusion mashing is between 63ºC and 70ºC (145-158 Fahrenheit).
We said that mashing between 63 and 65ºC (145-159ºF) yields more fermentable sugars and produces a beer with a dryer taste and higher alcohol content. Whereas mash temperatures between 66 and 68ºC result in more long-chain sugars and a fuller-bodied ale.
Most IPAs fall somewhere in the middle as far as mouthfeel and alcohol content are concerned, so it makes sense that the best mash temperature lies in the middle of this range.
The fact that most of the English IPA recipes listed below recommend a mash temperature of 65ºC (149ºF) and most American IPA recipes recommend 67ºC (154ºF) is probably just a coincidence. Either temperature will work well for any style of IPA.
I don't think that a two-degree temperature difference is really noticeable in the taste of the finished beer. The differences between the different IPA styles are due to the types and quantities of hops used, when they added and the grain bill.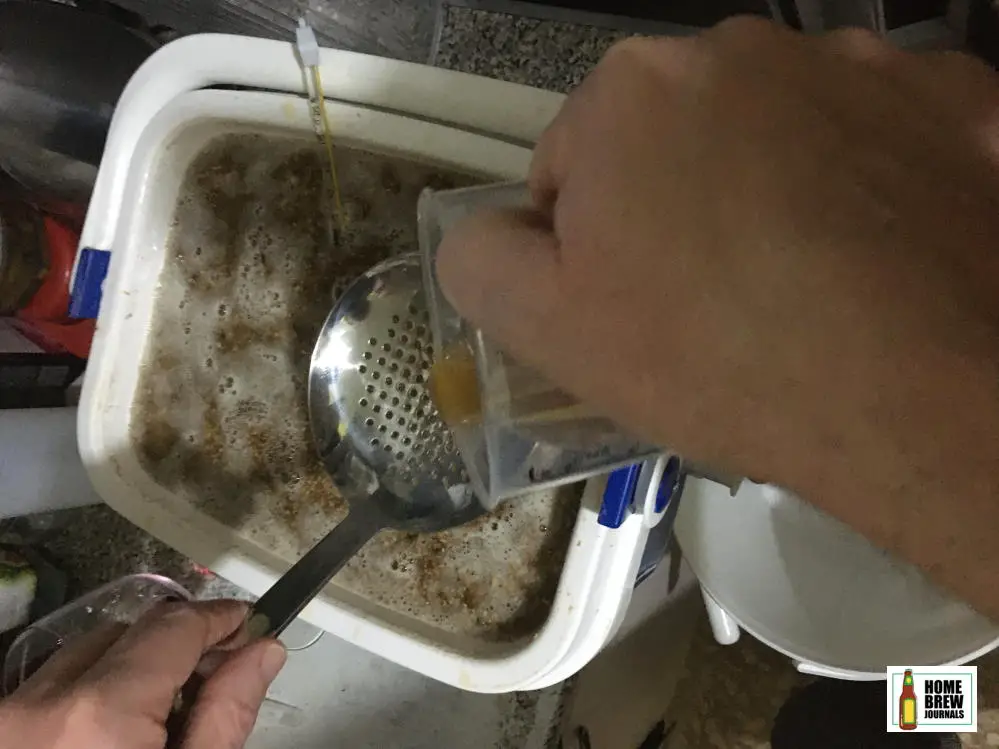 Recommended mash temperature for IPA
This table shows the recommended mash temperature for eighty-seven different IPA recipes.
| Name | Style | Mash temperature |
| --- | --- | --- |
| Alaskan Red IPA | American IPA | 67ºC (153ºF) |
| Alpine Duet | American IPA | 67ºC (153ºF) |
| Alvarado Street Brewery Expressive IPA | Double IPA | 65.5ºC (150ºF) |
| American Imperial IPA | Double IPA | 64.5ºC (148ºF) |
| American IPA | American IPA | 65ºC (149ºF) |
| American IPA | American IPA | 65.5ºC (150ºF) |
| Arbitrary Force Apricot Hazy IPA | New England IPA | 67ºC (153ºF) |
| Arriaca IPA | American IPA | 65ºC (149ºF) |
| Bell's Two Hearted IPA | American IPA | 67ºC (153ºF) |
| Black IPA | English IPA | 65ºC (149ºF) |
| Block 15 Alpha IPA | American IPA | 67ºC (153ºF) |
| Bloody Orange IPA | English IPA | 67ºC (153ºF) |
| Boss Tweed (Clone) | New England IPA | 67ºC (153ºF) |
| Brambling Cross IPA | English IPA | 66ºC (151ºF) |
| Breakside Brewery IPA | American IPA | 67ºC (153ºF) |
| Brewdog, Hardcore IPA (Clone) | Double IPA | 65ºC (149ºF) |
| Calling Bird IPA | English IPA | 67ºC (153ºF) |
| Captain Cook's Strait Up DIPA | Double IPA | 65ºC (149ºF) |
| CB&B Hopback IPA | American IPA | 67ºC (153ºF) |
| Citra Burst Triple IPA | Double IPA | 64.5ºC (148ºF) |
| Citra Double IPA (Clone) | Double IPA | 67ºC (153ºF) |
| Citrum IPA | American IPA | 65ºC (149ºF) |
| Dark Sumo Imperial IPA | Double IPA | 63ºC (145ºF) |
| Dead President Double IPA | Double IPA | 66ºC (151ºF) |
| Defiance IPA | American IPA | 67ºC (153ºF) |
| Desintegrate | American IPA | 66ºC (151ºF) |
| Dogfish Head, 90 minute IPA (Clone) | Double IPA | 65ºC (149ºF) |
| Door County Brewing New England IPA | New England IPA | 66ºC (151ºF) |
| English IPA | English IPA | 65ºC (149ºF) |
| Extra IPA | American IPA | 64.5ºC (148ºF) |
| Fermentation in Motion IPA | New England IPA | 67ºC (153ºF) |
| Firestone Walker DJ (Clone) | Double IPA | 65ºC (149ºF) |
| Fort George Fresh IPA | American IPA | 68ºC (154ºF) |
| Foundation Brewing Co. Epiphany (Clone) | Double IPA | 68ºC (154ºF) |
| Freestyle IPA | English IPA | 66ºC (151ºF) |
| Hill Fsrmstead Abner (Clone) | Double IPA | 65ºC (149ºF) |
| Historic Burton IPA | English IPA | 66ºC (151ºF) |
| Hop Warrior IPA | American IPA | 68ºC (154ºF) |
| Hoppy Thing | American IPA | 66ºC (151ºF) |
| Imperial IPA | Double IPA | 65ºC (149ºF) |
| Insane Chayenne Pineapple IPA | English IPA | 67ºC (153ºF) |
| Jedi Juice (Clone) | New England IPA | 67ºC (153ºF) |
| Juicy Fruit IPA | New England IPA | 68ºC (154ºF) |
| Juicy Juicy NEIPA | New England IPA | 67ºC (153ºF) |
| Julius (Clone) | English IPA | 68ºC (154ºF) |
| Keelhaul IPA | English IPA | 69ºC (156ºF) |
| Knee Deep Simtra Triple IPA (clone) | Triple IPA | 67ºC (153ºF) |
| La Cumbre Brewing's Elevated IPA | American IPA | 66ºC (151ºF) |
| Lawson's Double Sunshine IPA | American IPA | 67ºC (153ºF) |
| Lawson's Double Sunshine IPA (Clone) | Double IPA | 67ºC (153ºF) |
| LH Brewing Twin Sisters (Clone) | Double IPA | 67ºC (153ºF) |
| Legendary Weapons IPA (Clone) | New England IPA | 66ºC (151ºF) |
| Maine Beer Co. Dinner (Clone) | Double IPA | 64ºC (147ºF) |
| Mango Maya Milkshake IPA | New England IPA | 67ºC (153ºF) |
| Maplewood Brewery Son of IPA | New England IPA | 68ºC (154ºF) |
| Middle o'Next Week | American IPA | 65ºC (149ºF) |
| Midwest Cashmere | Double IPA | 67ºC (153ºF) |
| New England IPA | American IPA | 67ºC (153ºF) |
| NoDa Brewing New England Style IPA | New England IPA | 67ºC (153ºF) |
| Oldy Worldy English IPA | English IPA | 65ºC (149ºF) |
| Out of this world IPA | English IPA | 67ºC (153ºF) |
| Peachtree IPA | American IPA | 68ºC (154ºF) |
| Pineapple Milkshake IPA | American IPA | 72ºC (162ºF) |
| Pirate Life Mosaic IPA (Clone) | American IPA | 65ºC (149ºF) |
| Riverwards IPA | American IPA | 66ºC (151ºF) |
| Rock Art Brewery Limited Access (Clone) | Double IPA | 68ºC (154ºF) |
| Rogue Ale. Imperial IPA (Clone) | Double IPA | 68ºC (154ºF) |
| Russian River Pliny the Elder (Clone) | Double IPA | 67ºC (153ºF) |
| Sam Smith India Ale (Clone) | English IPA | 67ºC (153ºF) |
| Sierra Nevada Brewing Co. Torpedo (Clone) | Double IPA | 67ºC (153ºF) |
| Simtra Mosalaxy IPA | American IPA | 68ºC (154ºF) |
| SMASH Citra IPA | American IPA | 66ºC (151ºF) |
| Smashed it IPA | English IPA | 65ºC (149ºF) |
| Sonoma Pride IPA | English IPA | 66ºC (151ºF) |
| Star of Citra | American IPA | 66ºC (151ºF) |
| Stone Brewing Ruination IPA (Clone) | Double IPA | 65ºC (149ºF) |
| Surly Brewing Furios IPA (Clone) | Double IPA | 67ºC (153ºF) |
| TCB Imperial IPA | Double IPA | 65ºC (149ºF) |
| The Alchemist Heady Topper (Clone) | Double IPA | 67ºC (153ºF) |
| Three Floyds Brewing Dreadnaught (Clone) | Double IPA | 71ºC (160ºF) |
| Trillium's Dialled in IPA | Double IPA | 66ºC (151ºF) |
| Uberbrew CC7 IPA | English IPA | 65ºC (149ºF) |
| Uberbrew Humulus Insani | Double IPA | 65ºC (149ºF) |
| WeldWerks Brewing Juicy Bits | New England IPA | 65ºC (149ºF) |
| White Dog IPA | American IPA | 64ºC (147ºF) |
| Wormtown Brewery Double IPA | Double IPA | 68ºC (154ºF) |
Resources
The recipes listed in the table above are from a few of my favourite homebrew books and websites including: